About Your Visit
Items to Bring
When you come for your appointment, be sure to bring the following items with you.
completed patient forms (see below) - these forms will also be available at the office
referral from your primary care doctor, if necessary
insurance cards
list of any medications that you take
your glasses, if you wear glasses
your contact lens prescription, if you wear contacts - if you do not have the prescription information, the name, type and power will be written on the contact lens container or box of most soft contact lenses
someone to drive you - at the initial exam, your pupils will usually be dilated with drops (unless it is an emergency) which may cause some blurring of your vision
Patient Forms
If you are a new patient, please arrive 15 minutes before your appointment time to fill out the patient registration forms so that we can incorporate you into our system. Or you can print and complete the form packet below before your appointment and bring the completed forms with you to your appointment.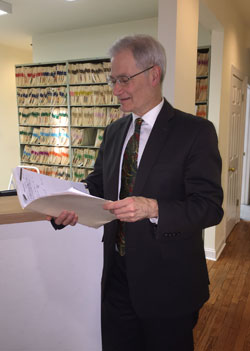 Forms Packet
Individual Forms
If you need an individual form, please select and print the form needed from the list below.
Insurances Accepted
We accept most, but not all, medical insurance plans. Because insurance plans do change and not every plan can be listed, please call our office to find out if Dr. Pekala is a provider with your insurance.